Call Today: 800-445-0653
Search Our Site
CUSTOM PRODUCTS
Shop Upcoming Holidays
FEATURED PRODUCTS
Customer Favorites
Razorback Gear
Armed Forces
Historical Products
Nautical
Flag Poles
Hardware
Cultural Awareness
Business & Trades
Schools & Universities
Civilian Forces/1st Responders
City/State/Territory Flags
Sports
Special Events
For the Home & Garden
Apparel & More
EMAIL SIGNUP
......................................................................................

Spring is one of four conventional temperate seasons following winter and preceding summer. We all learned this in kindergarten if not earlier, but there are various technical and local definitions of spring. When it is spring in the northern hemisphere, it will be autumn in the southern hemisphere. At the spring equinox days are close to 12 hours long with day length increasing as the season progresses. Spring and "springtime" refer to the season, and also to ideas of rebirth, rejuvenation, renewal, resurrection, and regrowth.

The winter of 2013 and 2014 has been particularly cold and icy or in northern states snowy. A countdown to March 20th seems appropriate. As we continue to freeze in February, we have much to look forward to in March. The days slowly become longer, the weather becomes a bit warmer, trees and flowers begin to bud and students begin to experience "spring fever"; tired of being locked inside by the cold the last few months. Spring holidays like St. Patrick's Day, Easter and Earth Day bring festive color and fun after the cold and bleak days of January and February.

Spring is when folks start venturing outdoors more and start surveying their yards and garden areas. It's time to check your American flags, hardware and ropesto make sure they are in good shape for the coming patriotic season starting in late May.

You might want to start adding bits of color to your garden before the crocus, daffodils and tulips really kick in with a colorful spring garden banner, whimsical banner stand, windsocks, wirlygigs or even some decorative items like planters, bird feedersandbird baths.

FlagandBanner.com has you covered for outdoor decor from spring through summer and all the upcoming patriotic holidays: Memorial Day, Flag Day, Independence Day, Bastille Day, Canada Day and Labor Day.
Out of all the Flag companies out there, why should you buy from FlagandBanner.com?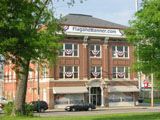 FlagandBanner.com is a 38 year veteran of the flag business. Started by Kerry McCoy during the recession of 1974 and with only $400, FlagandBanner.com has become one of the nation's best known flag companies. We have 21 great reasons why you should buy from us but one of the best is that we will provide you with services other flag companies don't. Twice a year we call to check on your flags to see if they need repair or replacing, we offer in house repair services and if your flag cannot be repaired, we will retire it for you and send you a coupon for $5 off a new flag! We can answer any flag question you have from etiquette questions to what size flag should fly from your particular size pole and much more. We offer custom design services and local installation services.
We have 2 locations, 1 in Little Rock, Arkansas and 1 in Fayetteville, Arkansas. Our Little Rock showroom is open to the public six days a week. You always get to talk to a real person when you call. We are well known for our Quality Products – Expert Service – Outrageous Support. When you buy from us, you know we will be there to support you a year from now or 10 years from now. No other flag company in American can say all that!
---
Creative, Custom Banners and Flags


With over 38 years experience, FlagAndBanner.com is one of America's most innovative producers of high quality, environmental graphics and soft signage. We can execute even the most complex, mixed-media designs using virtually any combination of materials, and we are one of the few companies that can create banners at competitive prices and do so in-house AND fast! Our in-house facilities also gives us the flexibility to do any job, large or small. From American flags to way-finding signage, we do it all. Get a FREE Custom Quote for your project online right now.
For more information on custom printed banners call one of our Creative Consultants at 1.800.445.0653 or email us at sales@FlagAndBanner.com for help.
---
Honor the American Flag


FlagAndBanner.com offers a variety of services to help you honor your flag. Sign up for Flag Alerts to receive timely rules for Flag Holidays directly to your inbox! With our Flag Alerts, you also receive exclusive deals and discounts, valuable information on flags and other upcoming holidays, and even Showroom Sales!
With over 35 years experience in the flag business, FlagAndBanner.com is your one-stop resource for not just the American Flag, but all things flag and banner. We can repair your flag, teach you how to get the most life out of your flag, and help you pick out the best way to present your flag. Give us a call at 1.800.445.0653 and speak with one of our Flag Experts.
---
Patriotic Decorating Kits


By popular demand, FlagAndBanner.com now offers pre-made patriotic decorating kits for your home, office, boat, patio, gazebo, etc.
We offer decorating kits in cotton, nylon, and tea-stained. See our great suggestions for decorating ideas! We also have patriotic apparel, patriotic kitchen supplies, home, garden, and yard decorations and more!
We want your event preparation to be as easy as possible, so you can spend more time enjoying the festivities, and less time worrying.
And if your creative mind is tired- See our American Patriotic Decorations for examples and ideas.
---
Great Gifts for the Sports Fan
Find your NCAA flags and merchandise this college football season. Our NCAA flags and College flags come in a variety of styles, fabrics and colors - perfect for you home, office, or tailgate party!
FlagAndBanner.com is an avid supporter of the Arkansas Razorbacks and offers a large variety of Razorbacks merchandise for your Arkansas Razorback football, basketball or baseball tailgating parties!
---
How Do I Make My Flag Look This Good?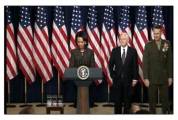 FlagAndBanner.com is your resource for all things flag and banner. In our Helpful Documents (or the bottom of every page), we show you how to hang a flag for your office, school or business. And we let you in on a little secret on how to make your flag look it's best.
Hint: They are using our Flag Spreaders to make the flags "stand at attention"! View our video on how to properly use Flag Spreaders!
We have other documents too: When to Fly the American Flag, Flag Etiquette, American Flag History, and more. Just look for the Helpful Documents section at the bottom of every FlagAndBanner.com website page.
---
Visit our Historic Showroom!
Did you know that FlagandBanner.com's headquarters is located in a historical building in downtown Little Rock, Arkansas? Flagandbanner.com's third floor once was a venue for musical greats such as Ray Charles, Ella Fitzgerald, B.B. King, and more. Click Here for more information about Dreamland Ballroom.